Over the past 4.5 months, several products (and lots of prayer) have saved me in my journey of motherhood and some were a waste of time. I thought I would share my opinion of those products and give you a brief review. I know that my posts seem so "baby related" but I can't help it, I have little time (and $) to shop or do anything else fun or "adult-like." But I promise that "baby posts" won't always consume my blog. It's just what consumes my life right now, so I am sharing and thankful that some of you are actually interested in reading.

Boogie Wipes
I seriously couldn't live without these. ALM has had a runny nose more often than not, so we have run through these things. They are wet saline wipes. We have been able to find them in "Fresh" and "Grape" scents. May I just say how AWESOME the grape ones are? They will leave your baby (or toddler or even child or heck, even you) smelling edible! They are $3.99 a pack. SO WORTH IT!

Little Remedies, Little Noses
Little Remedies products are ALL NATURAL. This saline spray is wonderful and doesn't burn. Well I haven't actually used it myself, but ALM doesn't seem to mind it at all. And it keeps her little nose moisturized and helps clear out any boogs.
Dr. Brown's bottles
We registered for these and the Playtex ones. We tried the Playtex ones and had some issues with leaking so we turned to Dr. Brown's and have had NO ISSUES! I heard great things before I had ALM and turns out they were all true. The only downside to these bottles is they have lots of parts so it takes longer to clean, but totally worth it!

Swaddles
I had heard such good things about "Swaddle Me" blankets. So I registered for 4. And got all 4. And used 1, for a week or 2. They are great if your child likes to be swaddled. But I urge you to register for maybe 2 and use one for a while to see if your child likes being swaddled. Now I have 3 swaddles that are just hanging in a drawer. Waste of $$. Instead we started sleep sack (more on this below) when Addison was 1 month old and she loves it and it's easy for us to change her in. I would definitely suggest getting at least one Sleep Sack and one swaddle. If you want to use both, Halo (the brand we use) makes a sleep sack swaddle. Perfect.

Sleep Sack
ALM wasn't a big fan of being swaddled. She wanted her hands out and free. At first that concerned me because I didn't want her waking herself up but I gave up and switched from swaddle to sleep sack and can I just say, this thing is AMAZING. It's kind of like a snuggie for babies, except it zips. They come in a variety of sizes and there are all different kinds of designs/patterns/brands. The one we use is actually made by Halo.

Pampers Sensitive Wipes vs. Parent's Choice
We used Pampers Sensitive Wipes for about 3 months, then, I will admit, decided to try the cheaper brand sold at Wal-Mart. We have no Target in the small town we live in so all things "baby" come from Wal-Mart. And by all things I mean, diapers, formula and wipes. This is one of those situations where "you get what you pay for." I bought a small pack of Parent's Choice first to see how they were and they actually were fine. We liked them, so we bought the HUGE pack that has like 900-something wipes. MISTAKE! They are thick and tough and hard to clean with. We learned our lesson here, back to Pampers VERY SOON!
Vaseline
Because my sweet ALM has big ol' chunky cheeks, they get chapped and dry in this cold weather and we have found that Vaseline works the best. We use it at night while she sleeps and when she wakes up her cheeks are so much better. She also has begun sucking on her fingers and eating her hands and they are getting cracked and chapped too and Vaseline works miracles on her hands! No expensive creams, just handy dandy Vaseline.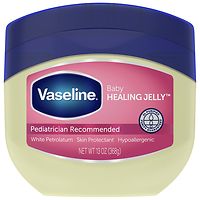 Butt Paste
Enough said!! It's paste for your baby's butt (i.e. diaper rash)and it works! THE BEST WE TRIED!

Bumbo
Since ALM was 3 months, we started sitting her in her Bumbo. We now feed her in her Bumbo. She loves it. But she will let us know if she has had enough "Bumbo time." It's great practice for them to learn to sit up.

I will have more reviews the older she gets I know and I will be sure to fill you in on what works, what doesn't and what wasn't worth the $$.